Choosing an ATM Manufacturer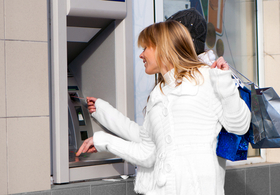 Though the US is quickly becoming more of a "cashless society," people still like having a few bucks in their wallets, along with the plastic. Having an automated teller machine (ATM) at your business is a convenience for both you and your customers, but finding the right ATM manufacturer requires some work.
Owning an ATM
Though it means additional duties for your staff, an ATM can become a significant source of revenue for your business. The transaction surcharge you earn from an ATM is deposited directly into your merchant account. You can expect 3-5% of the foot traffic in your place of business to utilize the ATM. Customers may stop in to get some extra cash and end up purchasing something as well.
Allowing your customers access to the available cash in their bank accounts will likely translate into sales for you. In turn, your customers will be less likely to make purchase in your store with a credit card, decreasing your credit card fees, overall.
An ATM for every situation
ATM manufacturers create cash-dispensing machines in all shapes and sizes, including the following basic types:
Kiosks: These typically are free-standing ATM's that, thanks to their compact size, can be placed just about anywhere.
Canopies: Usually seen in parking lots, these cash dispensers are anchored in the ground and covered by a metal canopy.
Surrounds: One of the most common ATM's, these normally are mounted through the outside wall of your business.
Portable/Mobile: When you need a lighter ATM, that's fairly easy to move around, consider this machine with limited services like cash withdrawals and balance inquiries.
Questions to ask an ATM manufacturer
Most ATM manufacturers produce many different models - before you start the purchasing process, be prepared to ask the following questions:
Is video surveillance available?
What counter measures are used to prevent identity theft?
Are rear-loading ATM's available?
What kind of software, and built in features are provided?
If the ATM malfunctions, how soon will it be repaired?
What kind of reporting tools are offered?
Who is responsible for maintenance and repairs?
Are cash-loading services provided?
How soon are deposits made into your merchant account after a transaction?
Leading ATM manufacturers
Triton: Located in Long Beach, Miss., Triton makes a variety of ATM's, including kiosks and surrounds.
NCR: Associated with money handling for well over 100 years, National Cash Register (NCR) is an ATM manufacturer with a line of self-service cash dispensers.
Heritage Industries: This Nebraska ATM manufacturer makes the kiosk-style ATM as well as several other models and designs.
Diebold: A corporate name associated with safes and vaults, they produce their own line of ATM's and recently rolled out a pilot ATM that is card-free and PIN-free, using only a QR code.
Wincor Nixdorf International: This IT based solutions business and ATM manufacturer, headquartered in Germany, specializes in cash dispensers and recycling systems.
Whether you use BuyerZone's free request for quotes service, or do your own research online, make sure you talk to several companies. No matter which ATM manufacturer you choose, you'll most likely make a purchase from a local reseller, who will provide all of your needed service and support. Start your search by using BuyerZone's free request for ATM price quotes and get connected with the leading ATM suppliers in your area.
Ready to Compare ATM Machines Price Quotes?