Updated ATM Features to Benefit Small Businesses
There are approximately 420,000 ATMs in the US.Thanks to new mobile payment technologies, many of them are becoming more than just a convenient place to withdraw cash.
Mobile ATMs still include the convenient features like a card reader, keypad, and user-friendly screen to prompt a cash withdrawal. Newer, more innovative models feature improving levels of customer service, while boosting sales for small business owners.
On the go banking
Small businesses can install an on-site ATM, providing their customers with access to cash as an additional payment option. This convenience is sure to enhance customer satisfaction, while providing so much more.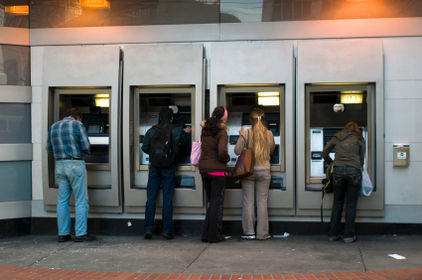 An ATM is not only a convenient outlet for accessing cash, but it can also be used for remote banking in any location. Banking tasks like depositing checks and transferring funds, without a deposit slip, are made simple with these machines.
If your small business is located in a high-traffic setting, like a corner convenience store, or a neighborhood cafe, remote banking can attract more customers to visit your location. Be prepared for sales to increase, as a result.
Customers will likely become frequent visitors to your location, to deposit a check, rather than drive to the bank. While they are there, they are sure to make a purchase.
Tech-forward ATM design
In addition to superior banking functionality, new and improved ATMs are being designed with a tech-forward interface to improve the privacy of customers who are withdrawing large amounts of cash.
Innovative ATM design allows customers to rotate a machine 90 degrees for added security to conceal private data while conducting a cash withdrawal. This feature alone, can benefit your sales by providing your customers with peace of mind. Customers will be more likely to frequent a local establishment whose ATM interface provides these advanced security features.
More than cash
The newest ATM features cater to customers looking for more than a simple cash withdrawal. On-site ATMs have been designed with the option to wire money through Western Union, cash checks, and add minutes to a prepaid wireless phone. These advanced ATMs still provide the opportunity to withdraw cash directly, while acting as a one-stop shop for entertainment.
Services like hotel reservations, movie tickets, and lottery tickets, are all accessible while making cash withdrawal. These additional services can also increase the revenue for each machine.
Having an ATM at your location can be a financial asset to your business. Convenience store retailers realize a 65% increase in spending as a result of an in store cash machine, while 75% of money withdrawn from ATMs in bars and nightclubs is spent at the location.
Surcharges that typically yield $1-$2.50 for each withdrawal, have always met profit for their owners. Add in the fact that these machines now offer even more services, and the possibilities seem endless. In fact, surcharges are on the rise and have increased 20% over the last 5 years. The average surcharge in 2007 was $1.75, and today, hovers at $2.50. An ATM at your location is convenient, and profitable, offering the additional services found in new ATM's will only increase this surge.
Ready to Compare ATM Machines Price Quotes?