Would an ATM Kiosk Bring More Revenue to Your Business?
A wall or kiosk ATM can provide a new revenue stream for your business while increasing customer satisfaction, but there are a few things to consider before installing one. Both styles of automated teller machines carry benefits and drawbacks for your business, and your customers.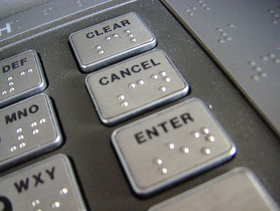 Be sure to read the pros and cons of both so you make the best decision for your business:
Pros of kiosk models
The size of your kiosk is sure to attract attention. A free standing model will easily promote your brand and logo to a large audience, while easy to find and accessible to customers.
Kiosk ATMs are more cost-effective to run, and cheaper to install than building a new branch location. The kiosk can easily be added to a remote area, opening up your service to a whole new group of customers. Buying a kiosk model ATM can cost as little as $2,500.
The empty space on and around your kiosk can be used for advertising. Custom graphics and design will turn your ATM kiosk into an attractive, personalized advertising billboard. You will not only attract attention, but you'll be reinforcing your brand.
Kiosk ATMs are safer for the employees responsible for service and maintenance. The person servicing the machine is able to work inside a locked area, inside the machine, rather than out in the open, adding an extra layer of security.
Kiosks offer convenient storage, with room to store supplies inside. When your kiosk requires repair and maintenance, all of the tools you need will be readily available.
ATM kiosks come in many sizes and styles. From walk-up, to drive-up, to a walk-in, there are many ways to provide a convenient accessible cash machine to your business.
Cons of kiosk models
An outdoor kiosk faces constant exposure to the ever changing weather. Steel kiosks exposed to rain can rust, while plastic or fiberglass-coated models that sit too long in the sun will fade. Many kiosks may be susceptible to rain water seeping in through the roof and causing damage.
Drive -up kiosk ATMs run the risk of damage from car bumpers and side mirrors. These outdoor kiosks can take a beating, as they are intended to serve customers via their cars.
While customers enjoy the convenience of driving right up to the machine, there is no staff on hand to assist them when there's a problem with the ATM. Your stranded customer must rely on a customer service phone number to resolve their issue.
Pros of wall ATMs
Customers will not use your ATM unless they feel secure doing so. An indoor wall ATM, in a high-traffic area, will allow convenience and an added sense of security for your customers.
A wall ATM can reduce the frequency of bad checks and credit card fees related to purchases made at your business. Customers can easily pay with cash, as they are likely to spend the money drawn from the wall ATM in your business.
A wall ATM saves on space and money. This machine is more cost-effective than a large, complicated kiosk. The cost of purchasing a wall ATM will cost anywhere from $3,000-$5,000. The income you receive from surcharges can easily offset this expense.
An outdoor wall ATM can provide 24-hour, consistent convenience that is not contingent on your store's business hours. This added feature will keep customers visiting your location, day and night.
Cons of wall models
Safety can be a challenge with a wall ATM. You will need to provide enough security around the ATM so customers are able to enter their personal identification numbers without being watched, yet still be visible to customers.
Sun glare and inclement weather may prevent customers from using the outdoor wall ATM. Wall models that lack an overhead or canopy can only useful in pleasant weather conditions.
Adding an ATM kiosk to your business is a great amenity for your customers who seek quick access to their bank accounts. While convenient for customers almost anywhere, kiosks are especially handy for businesses with drive-up windows, like pharmacies and fast-food restaurants.
A wall ATM, attached to your business, offers your customers the option to pay with cash. The more foot traffic you have at your location, the more sense it makes to install a wall ATM.
Ready to Compare ATM Machines Price Quotes?