ATM Introduction
Credit, debit, and smart card use is exploding, but cash remains the fastest and most effective way to make purchases at many retail locations including food courts, convenience stores, and nightclubs. Whenever and wherever someone needs cash, an automatic teller machine (ATM) ensures it is easily accessible.
ATMs are becoming more and more commonplace. In fact, according to ATM Marketplace about 70 percent of ATMs are now in locations such as shopping centers, airports, grocery stores, gas stations, and restaurants. Even banks are expanding to offer non-branded terminals in high traffic non-bank locations.
Is your business ready to join this trend?
Installing an ATM can be highly beneficial to your business. It can reduce credit-card processing fees, increase visitors, and eliminate bad checks. And, if your business has enough traffic, you will make money on every ATM transaction.
This BuyerZone ATMs Buyer's Guide will get you up to speed on your ATM options, provide tips on how to select an ATM supplier, and tell you how much you can expect to pay for one.
---
Do you need an ATM in your location? Figuring out the answer to that question is the first step in integrating one into your business.
---
Do You Need an ATM at Your Location?
Many businesses benefit greatly from having an ATM. When considering whether your location is right for an ATM, look at foot traffic. Ideally, hundreds of people will pass by your machine or notice a sign for it every day. With this much traffic, you should be able to generate enough ATM card transactions to make the investment worthwhile.
The average ATM generates 250-500 transactions per month. Your numbers may be higher or lower depending on your location and competition. ATMs face increased competition not only from each other (as more and more non-bank locations install ATMs), but from POS (point of sale) machines which allow customers to pay for a purchase with their debit card and receive cash back from their account. This has led to a saturated market in some locations.
Even if you do not have overwhelming foot traffic, you may want to install an ATM anyway. At retail locations, ATMs make it convenient for customers to buy, regardless of how much cash is in their wallets. And stores that rely on small-dollar credit card transactions will find the reduction in credit card processing fees often offsets the cost of the ATM.
Choosing the right ATM for you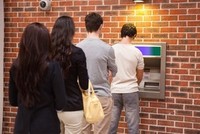 When choosing the appropriate model for you, consider your space. ATMs come in three basic types:
Freestanding models are the most popular design since they provide the most flexibility in placement. However, they require a two-foot by two-foot footprint, plus room for the customer to stand.


A countertop ATM model may be the right solution if your floor space is limited.


Through-the-wall ATMs take up no floor space, but require significant construction work during installation.
If your after-hours foot traffic is significant, you may want to invest in an outdoor through-the-wall ATM model that can generate supplemental income for your business 24 hours a day. Compared to indoor models, outdoor ATMs are exposed to greater security and environmental risks. They require more lighting and physical barriers to deter theft and vandalism, as well as weatherization to protect them from the elements. This can drive up overall costs, but in the right location may be well worth the investment.
---
Though they all deliver the same basic service, ATMs offer a variety of cash-related and non-cash-related features – providing ease-of-use functions for your customers as well as eco-friendly enhancements to make sure you're minimizing your environmental footprint.
---
ATM Features
ATMs all share the same basic features: a card reader and keypad to enter PIN codes, a screen to guide the user through the process, a cash dispenser to dole out the cash, and a printer to generate receipts.
ATM basics
Basic cash machines use a 7-8 inch screen. Some ATMs offer screens as large as 12 inches that can be used for advertising. Larger screens can also be useful if your ATM will offer more than just cash dispensing, such as the option to buy stamps and tickets. For the most part, color LCD screens are now standard .
Most retail ATMs feature dip-style card readers that read the card without pulling the card into the machine.
ATM keypads do not vary much. A few models have infrared touch screens with a touch function key. The touch function keys (not to be confused with the actual keypad) are on the side of the actual screen which allows the user to select certain functions. These typically cost between $100-$200 for the upgrade. Many retail locations still opt for standard keypad entry .
Cash dispenser
By far the most important consideration is the cash dispenser. Most dispensers feature single-denomination cash cassettes that can hold 700 to 1,000 bills. Using $20 bills, this translates to a stash of $14,000 to $20,000 – enough to handle approximately 300 average transactions.
Most retail ATMs sold these days come equipped with a removable cash cassette, allowing you to reload the cassette from the security of a back office. Non-removable cassette designs are also available, which can reduce ATM costs. This non-removable design does, however, raise potential security risks as it requires you to stack replacement bills into the cash box in an open environment.
High-traffic locations like casinos, malls or airports may want to look into larger cash cassettes that hold up to 2,000 bills and multiple denominations. This can help reduce how frequently the ATM needs to be restocked.
Connectivity
Most ATMs sold these days run on Windows-based PCs. To do their work, they need to be plugged into a power outlet and connected to ATM processing networks.
Originally, ATMs would dial into these networks via a basic 56 kbps modem connection, which required a dedicated phone line. Older ATM machines still use a modem, but this connection is becoming antiquated.
If you have an existing computer network with high speed Internet access, it is time to upgrade to either an Ethernet or wireless capable ATM. A wireless ATM requires a wireless router to connect to your network.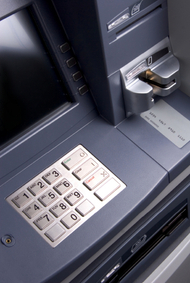 Some advantages of wireless ATMs are:
Wireless ATMs result in faster transactions since they're always connected.


Wireless eliminates monthly phone charges since there's no need for a dedicated phone line.


Wireless gives you greater flexibility in placing the ATM anywhere you want, not just against a wall.
Universal Access
The American Disability Act requires specific accommodations for individuals with disabilities. In late 2010, the ADA mandated additional improvements and all ATM owners had to complete upgrades by March 15, 2012 that included the following: voice guidance; input devices, numeric keypads and displays that accommodate the visually and hearing impaired; and height and reach access for keypad plus enough floor space to accommodate individuals in wheelchairs or mobility scooters. This dramatically impacted the industry, but all ATMs today are compliant with the ADA requirements.
ATMs go green
Electronic receipts are an eco-friendly option businesses can offer with their ATMs that can be sent via email or text. This drastically reduces the amount of paper used for receipts.
According to ATM Marketplace, about 640,000 tons of paper are used each year just for receipts. E-receipts can dramatically reduce that amount and offer convenience to the customer. For example, Wells Fargo's e-receipts currently account for about 12% of their transactions.
Non-cash features
The trend towards convergence has not escaped the ATM industry. As a result, you can now use ATMs to wire money via Western Union, add minutes to prepaid wireless phones, and even cash checks. A few suppliers offer ATMs that issue not only cash, but also movie tickets, hotel reservations, postage stamps, and even ski lift passes. The future undoubtedly holds many more conveniences with ATMs. For example, in the UK and Scotland some ATMs allow individuals to make charitable donations.
---
Think of an ATM as a miniature bank with no guards – because that's how thieves see them. Your next step in evaluating ATMs is to take a close look at the security requirements.
---
ATM Security
Keeping your cash secure is a critical component of any ATM money machine purchase. Given the fact that most of the time, it will be your own cash that you will be stocking in the machine, it makes sense to pay special attention to this consideration.
Cabinets & locks
Underwriters Laboratories, an independent product-safety testing organization, has come up with a standard for ATM security known as UL 291. For models designed to store cash only during business hours, it says that money machines should be able to withstand a physical attack for a minimum of five minutes. This should be enough time for the store clerk or manager to call the police. A business-hour money machine that meets the UL 291 standard weighs about 250 pounds.
Weighing in at 700 lbs., sturdier UL 291 Level 1 ATMs, also called 24-hour safes, can hold cash unattended and withstand up to 30 minutes of attack. This comes at a price though - expect to pay about $800 more for an ATM with a vault-class safe. These are most common in convenience stores.
Locks to open the cabinet are available as combination or electronic locks. Combination locks may cost less, but electronic ones are preferred because the code can be entered in faster than manipulating a mechanical lock. Plus, the code can be changed whenever required for security purposes. Some electronic locks have a five-minute time delay to deter thieves who can not wait around for the machine to open after entering the code. The cost to upgrade to an electronic lock costs from $50-$600.
No matter what type of ATM you purchase, it should be secured to a surface - ideally, a concrete floor - with 3- to 4-inch bolts. Having a surveillance camera to monitor activity can also help make the ATM more secure. (Get free quotes for video surveillance systems.)
GPS
Newer machines are sometimes equipped with a Global Positioning System (GPS). The main benefit of a GPS is the added security measure. GPS units make the machines easier to track should they be stolen.
Dye packs
Another anti-theft option for protecting ATMs is a dye pack. Your ATM can be equipped with an exploding dye pack to mark the money, as well as startling the thief. Check with the seller for details about this popular feature.
Triple DES
Triple DES (Data Encryption Standard), a method of protecting customers' personal identification numbers, is required on all new ATMs. If you purchase an older machine, verify that it is Triple DES compliant.
---
Once you've settled on a particular model or specific ATM features and made sure you can safely and securely incorporate the machine into your floor plan, it's time to find a seller.
---
Choosing an ATM Seller
Ever since 1996, when the national ban was lifted on ATM surcharging, the number of small and medium sized businesses that own and maintain ATMs has steadily increased. Since that pivotal point in the industry's history, a growing number of independent ATM companies have created a competitive market that keeps costs manageable for businesses.
This means you will probably get your ATM from an independent seller. These sellers are either authorized distributors for ATM manufacturers or ATM sales agents for these distributors. Although some banks still provide ATMs, they are extremely selective.
Service aspects
Your ATM seller will sell, install and service your cash machine. They will also manage the transaction processing. Choosing a seller is a matter of finding one that offers the product you want at a fair price and can deliver the ongoing support you need. Use our instant ATM company comparison service to learn what different sellers can offer your business.
Like all equipment dealers, ATM sales agents tend to sell models from a limited set of manufacturers. This allows them to stock the right parts and have the expertise necessary to support them effectively. You should try to select your machine from the main brands the company supports.
It's imperative to consider customer service. Although ATMs are highly reliable and will last for years, they are often subject to user error and can break down from time to time. Investigate the following:
Does your seller have a call center that will help troubleshoot problems?
Are there local technicians available to fix your machine when it breaks down?
How quick is their turnaround?
Is it possible to visit the seller's location and see how well their operation runs?
Direct sellers vs. resellers
Any ATM company you work with should be open about their relationship with manufacturers and processing networks. Find out if they have direct relationships with them as a registered Independent Sales Organization (ISO) or if they resell products for another ATM distributor. If they are a reseller, find out which ATM company they represent and check that company's reputation, as they will probably be processing your transactions and servicing your account.
Beware of companies that are intent on closing ATM sales by offering "amazing" deals. If it sounds too good to be true, it probably is. This could signal the company is attempting to amass a portfolio of clients to boost the value of their company for a future sale, or that the company does not have enough financial strength to service your account well. It's wise to steer clear of tempting deals that demand long-term contracts.
On the other hand, it's reassuring to see an ATM sales company that has been in the business for two or more years. That way, they should be able to generate enough revenue from their installed base to be viable. Checking Better Business Bureau records and speaking with references also help ensure you make the right decision.
ATM Pricing
Because of competition and falling technology prices, ATM prices have come down by more than half since the ATM boom that began in 1996. Unless you are purchasing your ATM for a gaming environment (those machines range from $30,000 - $50,000), you can expect to purchase a standard model for around $2,000. With common upgrades such as a 10.2 inch color screen, e-lock, and perhaps additional cash cassette, the price creeps up to $2,200-$3,000.
Ongoing costs include power, professional cash loading service if you do not want to do it yourself (about $50 per trip), and replacement receipt paper. Other optional costs may be an extended warranty or service agreement.
A few sellers charge monthly service fees. Make sure to find out what these are before you buy. See what other BuyerZone users have paid for automated teller machines.
Making money from your ATM
Offsetting these expenses is the money you can make with your ATM via surcharges. Determining how much to charge is up to you – surcharges range from $1 to $9 depending on the location with an average surcharge of $2.50. At the average surcharge, if you were to process 300 transactions per month, your ATM would generate $750 per month or $9,000 per year in revenue.
The percentage of that surcharge revenue you take depends on how involved the seller is in managing your machine. If the ATM provider does nothing but install the machine and process transactions, you can earn up to 100% of the surcharge. If the supplier underwrites the cost of the machine, maintains it, and/or stocks the machine with cash, your percentage drops accordingly.
Earned revenue based on transaction fees from your ATM can accumulate accordingly. A good rule of thumb is that the ATM should be able to pay for itself in a year. Another benefit:on average, ATM users spend 20% to 25% more than customers who do not use an ATM, according to research from ATM Marketplace.
Free ATMs
Many ATM sellers offer high-traffic businesses the chance to place ATMs at their locations at no charge. The sellers offer turnkey placements where they install, service and operate the ATM for free. The business simply provides the electrical power, and some floor or counter space, and in return they receive a specified percentage of the surcharge collected. Not all locations qualify for these free ATMs.
The Tremont Capital Group estimates that about 19% of ATMs deployed by non-banks are under this type of agreement. A business would qualify for a free ATM if it easily accessible, has a visible location, and a high volume of foot traffic for 16-18 hours a day.
Keep in mind, however, that nothing is truly free. Some sellers collect up to 50% of the transaction fees every month. You will still need to address problems customers have with the machine, so make sure the ATM supplier's customer service meets your expectations. Also, if you do the math, you may realize paying for a machine upfront is worth it to gain control over future revenue.
Watch out for aggressive sales techniques. With a dwindling number of viable locations to place a cash machine, ATM suppliers can fight ferociously for your business. While you may think you have negotiated yourself a good deal with a "free" machine, the fine print can say otherwise.
Double check your contract
The details of the contract should specify how much the ATM costs, the term of the agreement, who stocks the ATM with cash, who sets the transaction surcharge, how the transaction revenue is to be divided, service and maintenance agreements, and the conditions for contract termination.
Pay special attention to the terms of the contract to avoid being bound to your provider indefinitely, for example:
Some suppliers will have you sign a perpetual agreement that prevents you from removing the cash machine from your location; meaning you are stuck with the machine until the supplier decides to remove it.


Similarly, auto-renewing agreements are common, and you must be aware of the contract renewal dates, so make sure you book these renewal dates into your calendar. Contracts can vary from month-to-month or up to seven or eight years in length, with an average of five years.
Best ATM Buying Tips
Buying tips
Choose a seller who is stable, established, and registered as an I.S.O. (International Standards of Organization.)


Thoroughly review the terms of your contract and details of the agreement. Look out for small hidden fees.


Look for a high level of customer service.There should be an 800 number to call with 24/7 support and a human who answers the phone to troubleshoot with you.


If the issue can't be solved over the phone, a technician should arrive within 48 hours of the call to fix the machine. Parts should arrive in one day or less.


Your seller should employ certified technicians. Manufacturers provide week-long certification courses. This ensures dedicated, proficient technicians to repair your ATM.
Tips to get the most out your ATM
Remember to add the ATM to your general business liability insurance. Purchasing a separate insurance plan for your ATM usually is not necessary.


For security purposes, enact an open-door policy when you leave the premises: Empty the ATM and leave the door open to show that there is no money inside


Place prominent signs around the ATM to warn customers of common ATM-related scams, including theft of cards and PINs.


Make sure you put up a few very visible signs to let customers know that you have an ATM.


Make sure your machine comes with a 1-year warranty that covers parts, starting from the time of purchase.


You do not need to stock an ATM with all the money it is capable of holding. Stock only as much cash as you need.


If you want to learn more about purchasing ATMs, research ATM suppliers now.
Ready to Compare ATM Machines Price Quotes?