Buying a Digital Phone System - What To Look For
A digital phone system is an essential component of any modern business. It allows employees to communicate with co-workers and clients across town and around the world. Read this article to understand the optimal digital phone system configuration and model for your business's needs.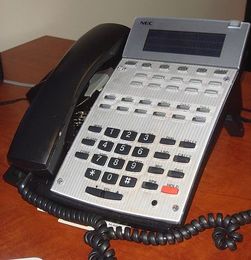 Types of Digital Phone Configurations
Most commercial phone systems come in one of four basic configurations. These include:
Key system units (KSU): KSU systems are similar to traditional PBX systems in many ways, as they are controlled through a central terminal. KSU systems work well for businesses with 5-40 employees. KSU phones come with numerous advantages and features, such as allowing callers to make calls to another in-office extension and the ability to prevent users from accidentally picking up other lines while they are in use. Many KSU systems include features that were once available only on PBXs, and some systems operate internally as either a key or a PBX depending on the software that is installed. The term "hybrid" is often used to describe commercial phone systems that resemble both key and PBX systems.
KSU-less: As the name suggests, KSU-less systems are almost opposite of KSU phones. Instead of a large central terminal, KSU-less phones are independent devices that can be installed and uninstalled without having to deal with dedicated wiring. The phones themselves contain the technology necessary to allow them to communicate with each other without requiring a central cabinet.
Although this simplifies the process, and makes it less expensive, you will need to do the shopping, installation, programming, and maintenance yourself. These systems are a good choice for home offices or businesses with less than 10 employees.
VoIP: VoIP (Voice over Internet Protocol) systems represent the latest in phone system technology, and are growing in popularity. With VoIP, regular voice calls are sent over a computer network instead of traditional phone lines. VoIP systems utilize broadband Internet connection to connect to other phones. Make sure you understand the difference between a VoIP phone service and a VoIP phone system.
A VoIP phone service requires a regular phone, an adapter, broadband Internet service, and a subscription to a VoIP service. When you place a call, it is sent over the Internet as data until it nears the recipient's destination. Then the call is translated back into a more traditional format and completes the trip over standard phone lines. This can be used with ANY phone system.
A VoIP phone system uses equipment installed at your business that routes internal calls over your computer network. With a VoIP phone system, you can unite multiple offices on a single phone system. No matter how remote the locations, a VoIP phone system can completely eliminate long-distance calling charges between them. However, it does not replace your existing phone service to the outside world. These phone systems work in small offices as well as large enterprises.
IP PBX (Internet Protocol Private Branch Exchange): These are gradually replacing traditional PBX systems due to great reliability and surprising affordability. An IP PBX consists of one or more SIP phones and an IP PBX server and used in conjunction with VoIP. The IP PBX server functions in a similar manner to a proxy server: SIP clients, being either soft phones or hardware-based phones, register with the IP PBX server, and when they wish to make a call they ask the IP PBX to establish the connection.
Benefits include easier installation and configuration than proprietary phone systems (anyone proficient in networking and computers can install and maintain an IP PBX), it can be managed by a web-based configuration or GUI, and you can connect hardware IP phones directly to a standard computer network port, eliminating the need for hard wiring.
Different Models of Digital Phone Systems
Once you have decided on a configuration, you can select your preferred digital phone model:
Display phones: Display phones utilize a small built-in screen to display things like caller ID, call duration, and much more. Most digital phone systems utilize display phones.
Speaker phones: Speaker phones are popular for conference rooms where multiple people need to be on the same line. These come in half-duplex and full-duplex models, in which users can either speak one at a time or all together.
Receptionist stations: Receptionist stations allow one person, usually an administrator, to manage multiple phone lines and extensions from a single device.
Ready to Compare Business Phone Systems Price Quotes?