InfoTronics Time Clocks

Time clocks collect employee time and attendance data. Our data collection devices fit your unique work environment, and they reduce the time and cost of data collection. Time clocks simplify punching In and Out and provide additional functions for supervisors and employees. These time clocks work seamlessly with Attendance Enterprise.
More InfoTronics, Inc. Time & Attendance Systems Information
No matter which data collection method(s) you choose, you can always find the right time clock for your organization:
Barcode Swipe Time Clocks »
Barcode technology is convenient for organizations that use employee badges. The employee slides the card through the barcode swipe card reader from one side to another.
PIN Entry Time Clocks »
Personal identification number (PIN) technology eliminates the need for badges. Employees enter PINs directly into the clock's keypad to initiate transactions such as punching or transferring work groups. PIN time clocks are easy to maintain and affordable.
What's more, PIN entry is available as a backup. For example, if the finger reader template is not yet enrolled for an employee, the employee's PIN can be used in the meantime.
Biometric Hand Readers »
Biometric hand reader technology makes buddy punching impossible. Advanced biometric technology stores the unique geometry of each employee's hand in a template. This template is later used to identify that employee. Employees no longer have to carry badges or ID cards-now punching In and Out is as simple as shaking hands.
The employee simply types an ID number and places a hand on the time clock. If the hand matches the template stored in the clock's memory, the employee is punched in.
Magnetic Stripe Readers »
Magnetic stripe reader technology is convenient and cost-effective. Magnetic swipe cards work like a credit card: employees swipe the side with a magnetic stripe through the card reader to identify themselves.
Proximity Readers »
Proximity readers require employees to use proximity badges to verify their identity. Employees pass a key fob or other proximity device near the time clock to punch In and Out. The proximity device emits a radio frequency, which identifies them to the time clock. Proximity devices are often used with access control systems, and can also work with time clocks supporting proximity readers.
Biometric Finger Readers »
Biometric finger reader technology eliminates the cost of lost cards and prevents buddy punching. These readers identify each employee using a unique digital finger template. Employees must be present to punch.
Telephone-based Time Clocks »
Attendance Enterprise works seamlessly with the Telliris Attend telephone-based data collection system. This interactive voice response system allows employees to punch, check their schedules, receive messages from their supervisors, call in sick, and request time off-all from a touch-tone telephone. The professionally-recorded voice prompt system is customized to include prompts to employees depending on their group membership.
Telephone-based time clocks are installed and configured on-site at your organization, using your preexisting telecommunications framework to save time and money. No time clocks are needed-all employees use the phones or cell phones already at their disposal. This data collection system is ideal for companies with many employees who telecommute, travel or work at several locations.
Employee Online Time Sheets »
Employee online time sheets:
Efficiently collect information from employees with access to a PC
Reduce requests for archived time and attendance information by providing historical data to employees online
Provide benefit usage and balance information on demand
Allow employees to request time off online
Employee Self Service or Kiosk allows employees to punch In and Out, view their time cards, check paid time off balances, and request time off using Internet Explorer. You decide what features to make available to each employee.
Employee Self Service can be used from any location-at home, at satellite offices, on the road-and can be limited to the locations you specify.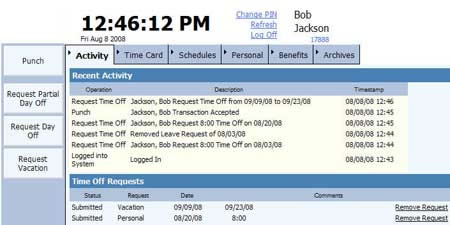 Kiosk is accessed from common areas like lunch rooms. Individual PINs permit employees to access only their own information.
Ready to Compare Time and Attendance Systems Price Quotes?