Time Clocks Can Benefit Small Businesses
At bigger companies, time and attendance solutions are essential for managing large workforces. When you're a small business with hourly paid employees, though, a similar solution is just as important if you want to accurately track how much employees are doing and how much you need to pay them. Time clocks for small businesses mean you're able to calculate the exact hours each employee has worked, which can help you to manage your payroll and your client billings a lot more effectively.
And while the old punch card variety is now little more than a piece of retro décor in many break rooms, that hasn't eliminated the need for time and attendance tracking. In fact, by leveraging the processing and reporting power of custom software, it's elevated the process, making it easier and far more cost-effective.
Do small businesses need time clocks?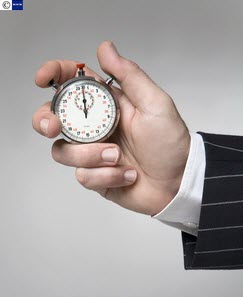 A lot of smaller organizations with only a few staff may think that their business doesn't need a time and attendance solution, or that it's not going to be worth the investment. Most of these companies would probably be surprised at the positive impact installing time clocks could have on their business.
Installing time clock software could help streamline the whole process, making it quicker and more accurate, ensuring that you're only paying your staff for the exact hours they've worked. For example, the time sheets that employees complete every week can be notoriously inaccurate. Whether intentionally or by accident, workers are unlikely to remember the exact hours they've worked over the last 7 days, and they're also likely to round up the amounts in their favor. Then there's all the time it takes your payroll department to collate and add up the time sheets in order to calculate employees' wages, a process which can be an incredibly inefficient use of your staff's time.
Modern systems often use either a direct keypad entry, where employees enter a number or PIN (similar to an old time clock), or something more modern that requires an ID card or biometric authentication.
Modern software solutions typically feature:
Time tracking - Hours, sick leave, vacation, holidays, overtime, salary, and flex-pay
Real-time reporting - Time and attendance, per employee, per department, and payroll
Time clock functions - Manager entry, designated entry point (PC), employee entry point (PC), and Internet
Support - Phone, email, live chat, and web resources
Compatibility - Mac OC X and Windows XP, Vista, 7, and 8
Pricing
Small to midrange businesses with fewer than 25 to 40 employees can purchase basic time and attendance client-server software for $300 to $1,000. Cloud-based ASP solutions are available for $5 per user per month and often include a monthly base fee of around $20 as well.
If you're looking for greater efficiency and more control, but want to try and keep your investment to a minimum, there are other alternatives. Pyramid TimeTrax is a software only solution where employees 'clock' in and out on a specified PC. It produces electronic time cards that are quickly and easily imported into the major payroll software packages, and best of all it only costs around $100.
Another solution from Acroprint combines software with similar features to TimeTrax with a fingerprint scanner, for businesses who want to make sure employees aren't clocking in for each other. The software will transfer data directly to your PC for your payroll department to use, and the whole package costs around $250. Of course, you'd need a PC to run both of these software solutions, but they make great time clocks for small businesses who are trying to keep the costs down.
Our Time and Attendance Systems Buyer's Guide provides much more detail on what these systems can do, how to choose the right one for your business, and how much you can expect to pay.
Ready to Compare Time and Attendance Systems Price Quotes?