IS-350 Desktop Mailing System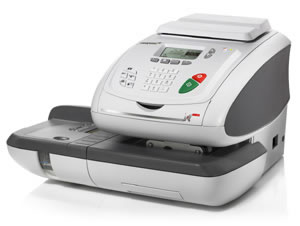 Growing businesses count on smart productivity tools to keep their offices running smoothly. The Neopost Intelligent Solution 350 Mailing System is a desktop powerhouse that makes it simple to weigh, rate, post and track your mail with accuracy.
Easy to operate and convenient to use, the highly capable IS-350 with whisper-quiet operation is designed to integrate smoothly into your office environment and process mail efficiently.
With its state-of-the-art technology and online services you can be sure to have the best in class solution to meet your demanding needs.
More Neopost Postage Meters Information
» Fast, Accurate Weighing and Rating
» Seamless Rate Change
» Automatic Postal Rate Downloads
» Customizable Slogans and Printed Messages
» Easy Ink Management
» Integrated Envelope Moistener
» Monitor, Track and Control the Online Generation
FAST, ACCURATE WEIGHING AND MAILING
Fast, accurate weighing and rating. Using Differential Weighing, simply place all your mixed weight mail on the weighing platform, remove an envelope and the correct rate is calculated.
The IS-350 is as ready as you are. With Smart Start technology, each time an envelope is removed from the weighing platform the powerfeeder starts and is ready to process mail.
SEAMLESS RATE UPDATE
All IS-350 mailing machines feature remote electronic download of Postal Service rates and fees. With seamless rate updates, keeping pace with the new Postal Service schedule of regular January and May price increases is a snap!
Always up-to-date. Always on-time. Always easy!
WEIGHING YOUR COSTS HAS NEVER BEEN EASIER
Don't be confused by postal rates. Let the IS-350 Rate Wizard give you a hand so you don't have to be a postal expert. Whatever rate you need, the Intelligent Solution 350 will help you figure it out. Plus, you'll enjoy hassle-free postal rate changes as they are automatically downloaded ensuring simplicity, accuracy, and compliance.
And, save even more time by eliminating keystrokes when you select the mail class you need from the Rate Shortcuts menu. From single envelopes to larger packages, you'll have the flexibility you need to weigh and manage your mail with ease.
GIVE THE RIGHT IMPRESSION
Promote customer relations with printed messages that enhance the professional look of your organization. Select advertising slogans, or simply customize a text message to reinforce the communication to your customers.
Your imprint will be crisp and clear as well as fully USPS compliant printing the latest technology, the smaller IBI Lite, 2-D barcode. Even your mail class die is set and embedded to automatically print the correct class so you can be sure to save time and costs.
DON'T RUN OUT OF INK
Managing ink couldn't be easier. The IS-350 uses a long-life cartridge and prints a smaller indicia barcode, IBI Lite, optimizing ink yield and minimizing replenishment.
Plus, with the Intelligent Solution 350 you will receive a Low Ink E-mail Alert so you can be sure your mail keeps moving. And thanks to the Click n' Snap design, changing ink cartridges has never been easier.
SEAL AND SECURE YOUR MAIL AUTOMATICALLY
With the integrated envelope moistener, you can be sure to deliver tightly secured mail with a tip-to-tip seal. And the IS-350 saves you even more time with its easy-access reservoir that's designed for efficient removal for easy fill, no spill and quick cleaning.
MONITOR, TRACK AND CONTROL THE ONLINE GENERATION
Neopost Online Services give you greater control over your mailing system and postal expenditures. Intelligent Solution 350 is connected to help you manage your operations more efficiently. Don't run out of ink with Low Ink E-mail Alerts and simplify ink cartridge re-ordering.
Enjoy the hassle-free automatic postal rate change downloads that ensures you're compliant with the latest USPS postal rates. If you have accountable mail, why not use eConfimation & eCertified services to track mail and receive status email alerts? With convenient online access, you can even monitor and track postage, mail class, and department usage.
FEATURES
SPECIFICATIONS
Processing speed
45 LPM (Letters Per Minute)
Job Imprint Memories
9
Print Modes
Normal posting; Omit date; Omit Day; Date stamp; Advert + Date stamp; Text only
Imprint Customization
8 standard, 2 open advertising slogans
10 custom personalized text messages
Automatically printed mail class
Account Reporting and Control
25 departments
Online Services
Seamless USPS rate downloads
Low-ink email alerts
Remote diagnostics
Online postal reporting
E-confirmation services
Decibel Level
Less than (<) 73 dBA
Size
17" L x 15" H x 10" W
Envelope Specs
Dimensions:
Minimum: 3.5" x 5"
Maximum: 10" x 13"
Thickness: Up to 3/8"
Orientation: Portrait or landscape
Ready to Compare Postage Meters Price Quotes?