The Decline of America's Retail Workforce
During the Great Recession of 2009 and subsequent years, many industries saw a loss of jobs. While retail didn't experience the job losses that other industries did - in fact, according to a report released in early April by the U.S. Bureau of Labor Statistics, retail employment has grown by more than 300,000 jobs over the past year - it's the quality of those jobs that have analysts worried. There are a couple of factors contributing to this downward trend:
A shift to more retail purchases being transacted online.
Retail workers becoming more efficient, thus reducing the number of workers needed.
Wages for retail workers remain among the lowest of any profession.
Growth of E-Commerce
Forrester Research forecasts that online retail sales in the U.S. will reach $370 billion by 2017, up from $231 billion in 2013 -- a 10% compound annual growth rate over the next five years. This growth is being driven by the rapid consumer adoption of smartphones and tablets, as well as brands investing in their e-commerce operations. With more customer purchases occurring online, retailers are closing brick-and-mortar storefronts in favor of bolstering their e-commerce offerings.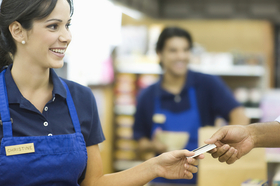 Fewer stores mean fewer jobs.
Increased Efficiency Reduces Need
According to Federal Reserve Economic Data, sales per retail employee have gone from $12,000 to $25,000 in the last two decades. The impact of this trend is that even as consumers spend more, brands need fewer workers to stock shelves, process orders, man customer service desks, etc.
And with today's advancements in in-store technology (e.g., iBeacon, mobile POS) coupled with the increased amount of data brands have about their customers, the efficiency of retail workers only figures to rise going forward.
Retail Workers Make Little Money
Retail workers have traditionally been among the lowest paid Americans, making just $25,310 per year, on average, according to the Bureau of Labor Statistics. The average retail sales associate, the most common job in the U.S., is making far less than the national average wage of $45,790.
Retail industry giants Wal-Mart and Amazon have routinely been criticized for the low wages they pay their workers. Until retail brands begin to raise the salaries of their employees, the jobs will continue to be viewed as less than desirable by the general public.
A Light at the End of the Tunnel?
Despite these ominous signs, the retail industry is still the nation's largest private sector employer, supporting one in four U.S. jobs. In an effort to keep the retail industry from following in the footsteps of the once-powerful farming and manufacturing sectors, the NRF has launched This is Retail, a campaign designed to highlight the industry's opportunities for life-long careers. And there are retail companies investing in their employees that deserve recognition.
Container Store has developed a culture where its employees come first in every decision it makes. The retailer has consistently been named to Fortune's list of the 100 Best Companies to Work For, and it rewarded its employees with the opportunity to buy shares of the company's stock at its IPO last year (the share price doubled on the first day of trading, from $18 to $36).
Costco has been celebrated for paying its store workers, on average, $20.89/hour. And that's before overtime and benefits. That equates to nearly $44,000 per year. Even President Obama is impressed by what the warehouse club retailer is doing.
You know what else Container Store and Costco have in common? They're both growing and profitable.
Container Store's net sales increased 7.3% in its most recent fiscal quarter, while Costco's year-over-sales increased 6% in 2013. This lends credence to the notion that the better you pay your retail workers, the better your company will do.
This makes sense for a couple of reasons: one, the better you pay someone to do a job, the better their performance will likely be. So if your retail workers are more efficient, you need less of them. Two, the better an employee is paid, the happier they'll be. The happier they are, the better the service they'll provide your customers and, ultimately, the more they sell.
Considering that retail sales associates are often the first interaction a consumer has with a brand, it makes sense that companies would want to put their best foot forward with a knowledgeable, happy, helpful employee.
Remember, you never get a second chance to make a first impression.
Related articles: