ATM Machine Models & Types
There are so many choices in ATM's on the market that it may be difficult to make an educated decision. Today, banks have fleets of ATMs that can be housed in a glass, enclosed, free-standing building or be placed inside a high-traffic convenience store. These are commonly called off premise ATMs.
Off premise ATMs can either be branded or unbranded. Those that are supplied by a bank and carry their names are branded ATMs. Off premise ATMs that do not carry a financial institution's logo or name are unbranded ATMs.
ATMs that are physically connected to banking centers are called on premise ATMs. On premise ATMs are typically more advanced, multi-function machines that complement an actual bank branch's capabilities and thus are a more expensive hardware purchase.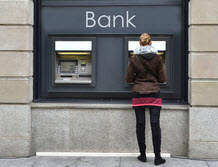 On premise ATM machines
On premise ATM machines are typically located at financial institutions. Bank customers enjoy more choice, availability and convenience, while financial institutions can increase their revenue from transactions, reduce operational costs and maximize their staff resources.
On premise ATMs can perform the following functions:
Cash and check deposits
Cash withdrawals from checking and savings
Cash advances from credit cards
Account statements
Loan payments
More services as decided by the financial instruction
For the banks, the above functions free up more teller time and in some instances, saves on employee costs because of fewer tellers. Banks receive fees for certain ATM services, especially from non-bank customers, which increases their profits. Also, many large banks will offer free or low-cost checking accounts that are tied to banking via ATM only.
One of the largest suppliers of branded, on premise ATMs is Diebold. They manufacture the shorter versions that are installed within the outside wall of the bank and they are also used in the drive-up ATMs.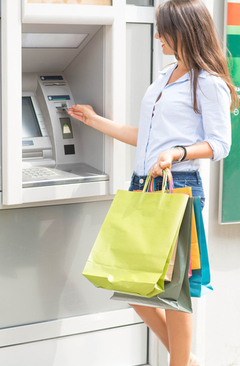 Off premise ATM machines
All on premise ATM machines will be a source of revenue for retailers, office complexes, convenience stores, restaurants and bars in which they are placed. In terms of a branded ATM, the financial institution may enter into an agreement with a chain convenience store where they 'lease' the space and provide all upkeep, maintenance, and cash stocking. The convenience store reaps rewards by customers having the convenience of cash to pay for goods and services.
Establishments with on premise unbranded ATMs reap all the rewards; management sets the fee based on what the market will bear, and 100% of the fees go to the establishment. Unbranded ATMs can be purchased or leased but the establishment is responsible for upkeep as well as keeping cash stocked.
Off premise ATM machines are the ones you typically see in shopping areas, including:
Amusement parks
Hotel lobbies
Multi-storied office buildings
Casinos
Cruise ships
Airports

Bus terminals
Bars
Restaurants
Grocery stores
Convenience stores
There are a number of options for each off premise scenario. Below, we cover the most basic needs.
Convenience stores
An owner of a Mom and Pop convenience store or a franchised branded convenience store may want to consider a floor model like the NHY-1800 series from Nautilus Hyosung (NH). This particular ATM is equipped with a wide variety of cash dispensing units. It not only can fill up to 6,000 notes, but also offers a wide price range for customers.
In addition, the display and the safe specification can be customized as an option.
This ATM for convenience stores has a small foot print and ergonomic design allows NH-1800 to be installed virtually anywhere. It features function keys with 7" wide display and the voice guidance system complies with ADA regulations. NH-1800 is a great ATM solution for the off-premise industry.
Bars
Owners of bars and lounges need ATMs with special security features. One such ATM for bar owners is the Triton ARGO. ARGO features an updated, next- generation design with added elements of security, larger screens, and easier-to-read keypads or touchscreen options.
Models are now available in an eco-friendly, printer-less model, reducing each machine's carbon footprint and resulting in cost savings over the life of the machine. New updated design features the following:
Larger wings for added PIN security
Improved dispenser security
Touchscreen options
Blue LED-lighted keypad for easy-to-read transactions
This ATM also features skimming protection, shoulder surfing protection and surveillance camera provision.
Other Triton models to consider:
Model
Dimensions
(H-W-D)
Camera
Cassettes
Receipt Printer
Touchscreen
Screen Size
Estimated Cost
ARGO 7 - Shallow Cabinet
57" x 18" x 20"
Optional
1
60mm (standard); 80mm (optional)
Yes
7"
$1,700 - $2,800
ARGO 7 - Deep Cabinet
57" x 18" x 26"
Optional
1 - 4
60mm (standard); 80mm (optional)
Yes
7"
$1,800 - $3,200
ARGO 12
57" x 18" x 26"
Optional
1 - 4
60mm (standard); 80mm (optional)
No
12"
$1,800 - $3,500
Traverse
56" x 15" x 20"
No
1 - 2
58mm
No
8"
$2,000 - $4,500
FT5000
63" x 17" x 39"
No
2 - 4
80mm
No
10.4"
$7,200 - $9,800
Restaurants
Restaurant ATMs are very convenient for patrons who choose to pay with cash rather than a credit card. One great ATM for restaurant-use is the Genmega G2500 series ATM.
The G2500 comes standard with an 8" high-resolution wide-screen LCD, which can be upgraded to a 10.2"touch screen. The receipt printer can also be upgraded to a 3" graphics-capable for custom branding or coupons. The integrated topper can be paired with a selection of energy-efficient LED toppers to add visual impact and attract customers.
In addition to the fixed, removable and multi cash cassette dispenser options, the G2500 can also support cash dispensers from other equipment suppliers, providing more flexibility and upgrade options for existing deployments.
Other Genmega models to consider:
| | | | | | | |
| --- | --- | --- | --- | --- | --- | --- |
| Model | Dimensions (H/W/D) | Screen | Printer | Cash Dispenser | Topper Sign | Estimated Cost |
| ATM | | | | | | |
| G1900 | 56"x16"x22" | 8" Diagonal 32-bit Color | 56mm Thermal | 800 - 3,400 Note Capacity | Optional; Accepts Custom Inserts | $1,700 - $2,400 |
| G2500P | 56"x16"x23" | 8" Diagonal 32-bit Color | 56mm Thermal (2" Standard) 80mm Thermal (3" Optional) | 800 - 3,400 Note Capacity | Optional | $1,900 - 3,200 |
| GT5000 | 56"x24"x34" | 15" TFT-LCD Panel | 80mm / 3" Receipt Capacity | 1,700 - 5,100 Note Capacity | High Visibility LED Sign | $6,200 - $7,000 |
| ATM/KIOSK | | | | | | |
| G6000 | 56"x18"x24" | High-Res 15" Touch Screen LCD Panel | 80mm Thermal | 1,700 - 6,800 Note Capacity | Optional High-Brightness Topper Si | $7,800 - $9,000 |
There are as many prices for ATMs as there are models. It just all depends on the bells and whistles you want in your establishment. Let BuyerZone help you receive a customized quote for your ATM needs.
Ready to Compare ATM Machines Price Quotes?