Mailstation 2™ Digital Mailing System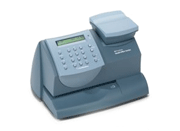 Pitney Bowes mailstation 2™ the smart solution for your small business just got better.
Enjoy the ease and versatility of the NEW mailstation 2™. Now we've made it even easier to run your small business, with mailstation 2™ you can track and refill postage online or through the phone 24/7. Save time and money, enjoy the convenience of a digital postage meter and avoid the hassle of going to the post office.
More Pitney Bowes Postage Meters Information
Our all-in-one mailstation 2™ digital mailing system with its built-in scale lets you weigh and calculate postage at the touch of a button. You get exact postage every time - no guesswork. You can even print promotional messages on your envelopes!
Increased productivity and reduced costs makes the Pitney Bowes mailstation 2™ a valuable small business postage meter.
Benefits of mailstation 2™ Digital Mailing System
Print exact postage every time - on letters, flats, parcels and postcards
Never guess again - the built in scale means no wasteful over-stamping
Get more postage anytime - refill your meter online or through the phone 24/7
Manage your postage costs through the online interface or on the meter
Mail packages easily - with the integrated USPS Shipping Assistant® software
New postal rates download instantly
Promote your business - put your logo or other graphic on the envelope
Convenient - order supplies through the online interface without leaving your desk
Ready to Compare Postage Meters Price Quotes?