The DM1100™ Digital Mailing System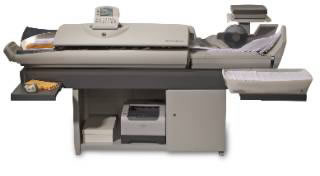 This high volume, versatile mailing system for our highest volume mailers can automatically feed, seal, imprint postage and stack uniform mail at speeds of up to 295 letters per minute. The DM1100TM handles mail ranging in size from post cards to 13" x 15" flats and up to 3/4" thick. This maximizes operator productivity by minimizing the need to sort mail by size. Patented Weigh-on-the-WayTMtechnology (WOW) with Shape Based Rating enables processing of mixed weight and size material in a single operation.
The DM1110TM's WOW has the flexibility to process mail pieces up to 16 oz. in weight and 12" x 15" in size automatically - intermixed in a single stream. Our patented technology measures and weighs each mail piece to ensure the proper postage is applied at speeds up to 145 letters per minute.
Open and closed flap sealing minimizes sorting based on its ability to handle mixed envelope flap configurations including combinations of closed flap, open flap and pre-sealed flap. Advanced Detection Sensors located throughout the feeding and transport path enhance the processing of difficult materials like postcards or "dark mail", and they detect oversize mail and add the proper surcharge.
The DM1100TM Mailing System comes with IntelliLink® technology. The easy-to-use IntelliLink® Command Center is your single source to exclusive mail services. The easy-to-use IntelliLink® Command Center is your central source for exclusive mail services and allows you to:
More Pitney Bowes Postage Meters Information
Access new features on-demand.
Gain access to USPS® and other carrier's rates and services instantly.
Access cost-saving USPS® electronic tracking services right from your DM1100TM Digital Mailing System.
"Constant Connection" offers a fast, convenient connection for postage downloads, software and rate updates through a high-speed LAN connection
Download rates directly to your DM1100TM quickly and easily when rates change.
DM1100 Mailing System Benefits:
Processes up to 295 letters per minute of similar size and weight mail.
Account tracking for up to 300 accounts standard; expansion options up to 1,500 accounts.
Preset up to 25 routine jobs for quick handling and greater productivity.
Advanced Detection Sensors provide perfect processing of hard-to-handle pieces.
Advanced engineering with less moving parts provides for long-term reliable operation.
Differential Weighing to process mail pieces and parcels in the same run.
Inkjet printing and secure envelope sealing give mail a professional, trusted appearance
Open and closed flap sealing eliminates the manual sorting of sealed vs. unsealed material.
Ready to Compare Postage Meters Price Quotes?