The DM925™ Digital Mailing System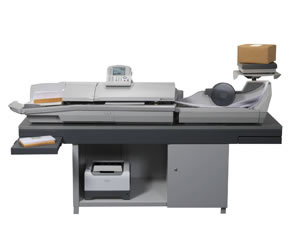 The DM925TM will automatically feed, seal, imprint postage and stack mail at speeds up to 250 letters per minute for high volume mailers. The DM925T handles mail ranging in size from post cards to 13" x 15" flats up to 3/4" thick to maximize operator productivity by minimizing the need to sort mail by size.
Weigh-on-the-Way (WOW) in-line weighing with Shape Based Rating maximizes efficiency by processing mixed weight and mixed sized material automatically. Processes and rates mail pieces up to 16 oz. in weight and 10" x 13" in size automatically to ensure the proper postage is calculated and applied. Get the mail out the door fast with speeds up to 120 letters per minute.
Advanced Detection Sensors located throughout the feeding and transport path automatically align the mail to protect its contents while ensuring precise postage imprinting. These sensors also enhance the processing of difficult materials like post cards or "dark mail".
More Pitney Bowes Postage Meters Information
The DM925T Digital Mailing System comes with IntelliLink® technology. The easy-to-use IntelliLink® Command Center is your central source to exclusive mail services. The easy-to-use IntelliLink® Command Center is your central source for exclusive mail services and allows you to:
Access new features on-demand.
Gain access to USPS and other carrier's rates and services instantly.
Access cost-saving USPS electronic tracking services right from your DM925TM.
Download rates directly to your DM925T quickly and easily when rates change.
"Constant Connection" - the fast, convenient connection for postage downloads, software and rate updates through a high-speed LAN connection.
DM925 Mailing System Benefits:
Process up to 250 pieces per minute of similar size and weight mail.
Mixed Mail Feeding handles mail of various sizes from postcards to 10" X 13" flats and up to 3/4" thick in a single stream.
Advanced engineering with less moving parts provides for long-term reliable operation.
Advanced Detection Sensors allow enhanced processing of hard to handle pieces like postcards and dark mail.
Ready to Compare Postage Meters Price Quotes?